Quality and Production Nominami
Custom stickers produced in Italy with the best materials, always brilliant printing and well-defined fonts and design! NomiNami is the easiest and fastest way to create and print custom stickers for your company, start-up, association, new design project. Just choose the product, size, quantity and upload your logo or desired graphics, you will then receive your personalized stickers in 5 working days, perfect for leaving your mark and lasting over time.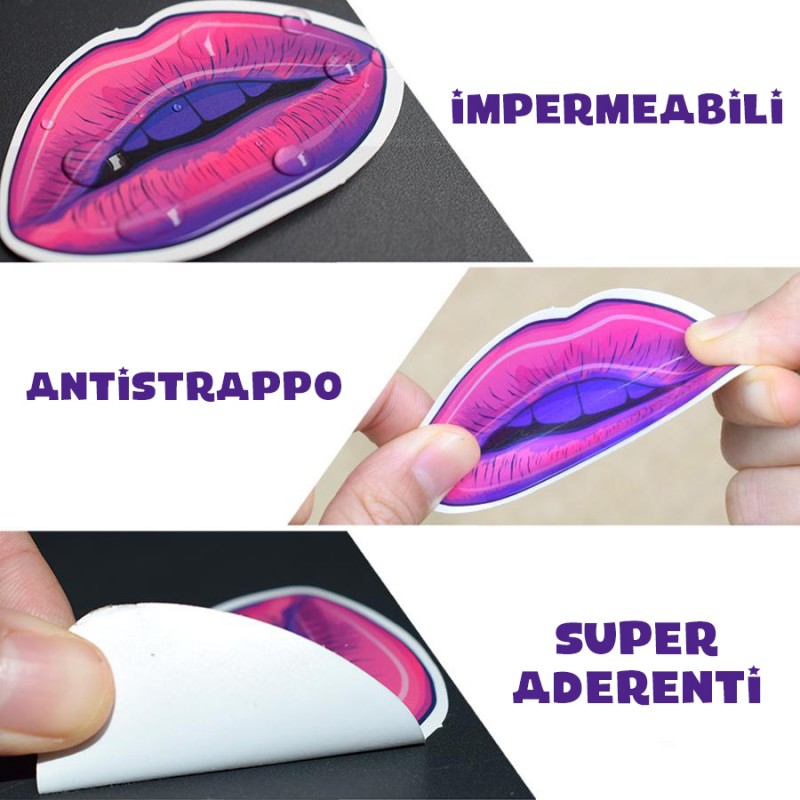 Custom Laminated or Plasticized Stickers We print all of our custom die cut stickers on high quality vinyl, we then laminate the stickers with a UV protective film to make them stand up to all conditions. In fact, NomiNami custom cut stickers are not afraid of rain, sun, water, sand and even scratches, nothing will scratch them and your sticker will always be there in evidence! Upload your graphic file in format: EPS, AI, PDF, JPEG. After the order you will receive the print and cut preview by email and in a few days your personalized stickers will be at your home!
We only print with the best materials, from the printing support to the inks (eco-solvents) to the machinery used to make your orders and to be always 100% perfect. Safe laminated adhesives for use both indoor and outdoor, excellent quality and maximum flexibility of the materials to apply them on any flat surface ensuring durability and resistance over the years.
Laminated Die Cut Stickers
- Plasticized stickers Adherence 5/10 years
- Plasticized labels Resistant to water, washable, UV rays, inks and scratches, perfect in the dishwasher and even in the sterilizer
- The iron-on clothing labels resist over 50 washes at 45˚
Made in Italy with Care!
Print Preview in 24 hours and Delivery 4/5 days, Custom Laminated Stickers Produced by an Italian company!
More production info or specific requests? Write to info@nominami.com we are happy to answer you as soon as possible!

Custom thermoadhesives iron-on labels
Personalized thermoadhesives labels for fabrics. Easy to iron, perfect in the washing machine up to 45 degrees and dryer. Iron-on labels that are easy to apply by iron to brand staff t-shirts, restaurant aprons or to give life to your graphics for a line of t-shirts. Choose NomiNami for your iron-on labels.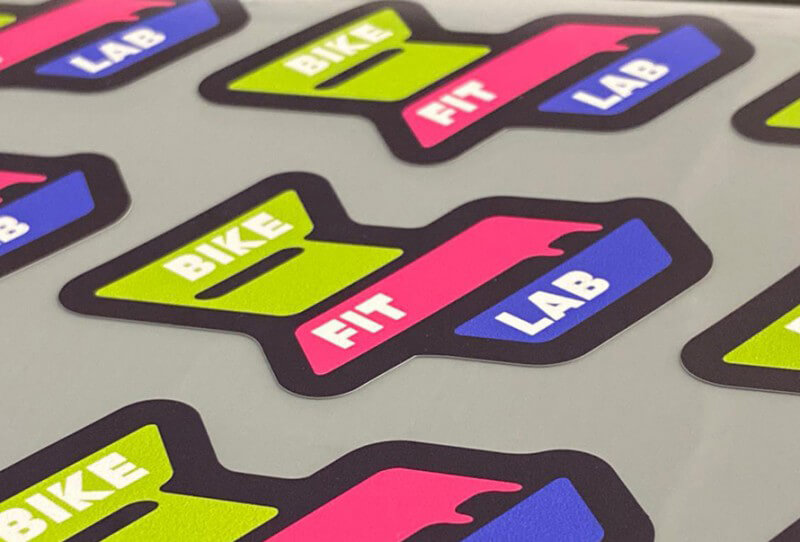 Non-slip walkble stickers
Ideal for large spaces, shopping centers and warehouses. To indicate important information on the floor, such as entrance - exit of vehicles, loading and unloading goods, escape routes, or even to keep the distance or wait your turn. They are walkable stickers with non-slip lamination resistent over time and stress.
Custom banner PVC
Our customized PVC banner is not the usual advertising banner, but it is resistant, non-transparent, does not tear even in windy days and always well-defined print, 1 cm galvanized eyelets, it is weatherproof, ideal to give a light to your business.

Economic Adhesive Labels
Economic Adhesive Labels for packaging on both white and transparent vinyl support. We print the labels on quality vinyl but we do not laminate or plasticize the vinyl, so they are more suitable for packaging products, jars, bottles, boxes. The labels are delivered in pre-cut half-cut sheets following your instructions at the time of ordering. The colors will always remain bright and the print well-defined long time lasting for the labeled product.
Phone cover with photo
Our custom phone cases are printed with high quality sublimation printing, wear resistant, flexible silicone cases, anti-breakage rounded edges. Cover with protective edge and high quality flawless print.
More info on our production or specific requests?
Write to info@nominami.com we are happy to answer you as soon as possible!